Photos
My Photography
Photo prints and other merchandise are now available via my Redbubble Store!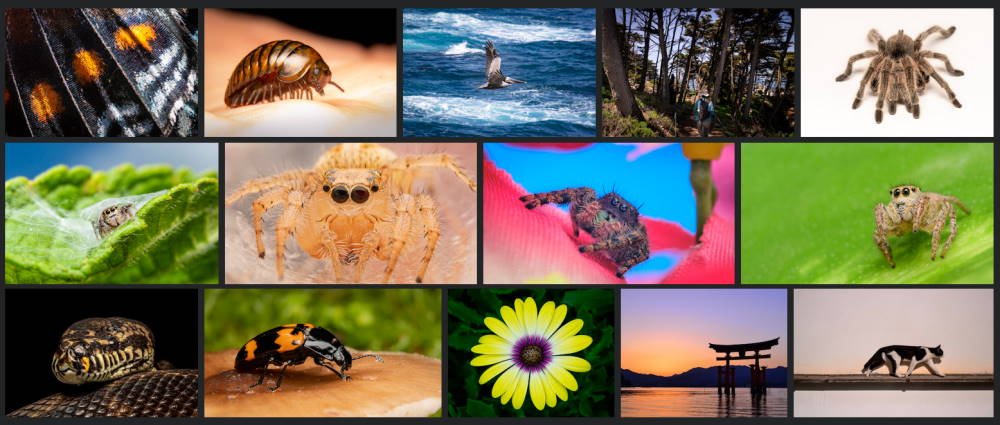 I love using my camera to explore nature! You can find some of my favorite photos in my photography portfolio, and catch my latest macro photos via Twitter!
Want some excellent nature photos? Or to learn how to take them?
I am available for freelance photography work! If you or your organization need high quality wildlife photos, and/or in-depth photography workshops, email me at spiderdaynightlive [at] gmail [dot] com) for rates and details!
Awards
First Prize in the category 'Arachnids in controlled conditions', for "Under the Trapdoor"; 6th Latin American Congress of Arachnology

Special Mention in the category 'Arachnids in the field', for "Salticid on a Leaf"; 6th Latin American Congress of Arachnology
Featured Work
"Spiders of North America", Sarah Rose, Princeton University Press; Photo of Liphistiid trapdoor spider (Fig. 14, pg 6)

Spidey Senser Project, Hawn Lab, University of Maryland Baltimore County; Photography of urban spiders and their webs for a community science project: Gallery

"Millipedes of Ohio", Ohio Dept. of Natural Resources; Photo of the millipede Pseudopolydesmus canadensis (pg 49 of PDF; cover of print version)

Philadelphia Inquirer; Macro photos of spiders to accompany two print and digital stories: 1, 2
My Gear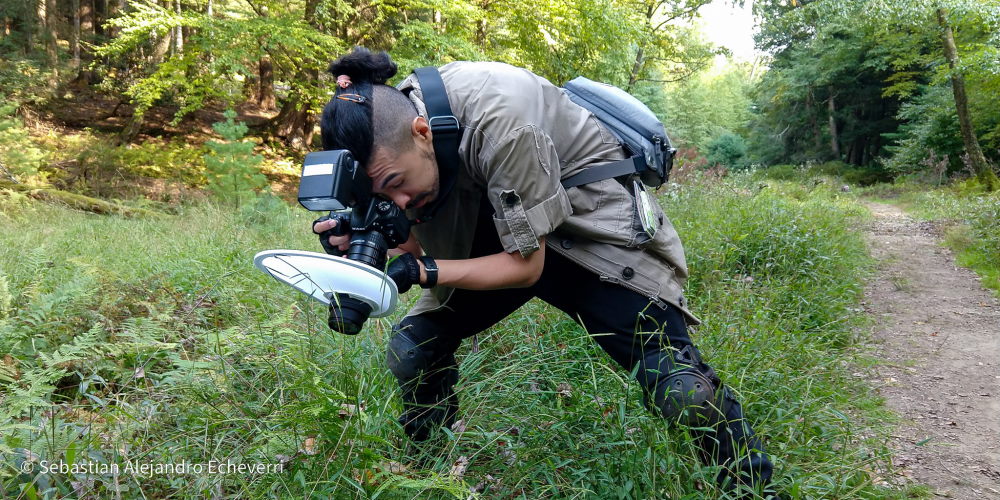 For macro photography, I use a Nikon D7500 body and a Laowa 100mm 2x macro lens. I light my shots with a Laowa Twin-flash and a homemade diffuser. Previously, I used a NEEWER Speedlite 750ii, and this diffuser from B&H. For larger subjects, I use a Tamron 16-300mm telephoto.
If you are interested in macro photography on a budget, check out my workshop on Smartphone Macro Photography! There are very decent macro lenses for your phones available on Amazon. Search "clip-on macro lens." There are a lot of options, but if you can find it, I am enjoying the Apexel 100mm lens. It was ~$30 when I got it.
Illustration

I am also learning natural history-style illustration! Currently, I'm working with pen (PaperMate InkJoy 300) on paper, and digitally with Adobe Fresco via a Surface Pro 4 tablet.